Seminole County Goverment COVID-19 Update
March 25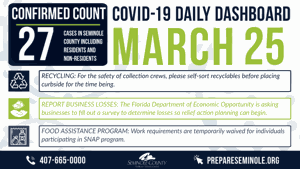 ♻️ TEMPORARY RECYCLING PROCEDURAL CHANGE
Seminole County residents should sort recyclables before placing curbside. Seminole County Solid Waste generally offers curbside sorting, but for the safety of collection crews, asks customers to self-sort.
Tissues and paper towels should be placed with regular household garbage.
Fibers should be sorted together. This includes:
• Pasteboard (i.e., cereal boxes, empty paper towel and toilet paper rolls, soda boxes, beer boxes, tissue boxes, gift boxes, pizza boxes and shoe boxes)
• Brown paper grocery bags (no wax, no wet strength material, no liners)
• Corrugated cardboard (flattened and cut down to fit inside the recycle bin)
• Newspaper, supplements, magazines and catalogs
• Box board, carrier stock, white and colored paper
• Telephone Books
Co-mingled containers should be sorted together. This includes:
• Plastic Containers #1-7 (#'s on bottom of containers) Remove all lids
• Glass bottles and jars (clear, green and brown) Remove all lids
• Aluminum cans
• Steel cans and tin household containers, such as food cans
This does not include residents in the City of Oviedo or Lake Mary; Oviedo and Lake Mary as they are single-stream.
For additional information, please contact Seminole County Solid Waste Customer Service by calling 407-665-2260 or via email swcustomerservice@seminolecountyfl.gov.
💵 REPORT BUSINESS LOSSES
Governor Ron DeSantis announced the activation of the Business Damage Assessment survey to assess the impact of COVID-19 on Florida's local business operations. The survey, managed by the Florida Department of Economic Opportunity (DEO), will evaluate businesses affected by COVID-19 and the impacts the virus has had on the local economy so actions to implement appropriate relief programs can begin.
The Business Damage Assessment Survey can be taken online at https://floridadisaster.biz/. Results from this survey will be shared with state agencies and local partners. Surveys submitted by small businesses can be used to access the Small Business Administration's Economic Injury Disaster Loan, made available for COVID-19 through the Coronavirus Preparedness and Response Supplemental Appropriations Act.
Once businesses complete the survey, they will be contacted with information upon availability of applicable assistance programs. To date, 147 Seminole County businesses have self-reported $39 million in estimated costs of damages, 940 temporary layoffs and 136 permanent layoffs. Most businesses reporting have requested Emergency Bridge Loans.
🍽 DCF WAIVING WORK REQUIREMENTS FOR SNAP PROGRAM
At the request of Governor DeSantis, and in accordance with the federal Families First Coronavirus Act, the Department of Children and Families (DCF) will waive work requirements for individuals participating in the Supplemental Nutrition Assistance Program (and Temporary Assistance for Needy Families) program.
DCF and the Department of Economic Opportunity have partnered to apply good cause statewide for TANF and SNAP recipients normally subject to participate in mandatory work requirements as a condition to receive program benefits effective immediately. The temporary relief of mandatory work requirements will alleviate any undue burden during this public health emergency on individuals normally required to participate in these programs with no disruptions to the receipt of cash and/or food assistance benefits.
To check the status of your benefits, report changes, receive information faster by opting in to receive electronic notifications, and upload documents 24 hours a day 7 days a week, log into your MyACCESS account here: https://www.myflorida.com/accessflorida/
If you have questions about your benefits and the temporary relief of work requirements during this time, please contact the Department of Children and Families customer center at 850 300 4DCF or visit the website at https://www.myflorida.com/accessflorida/
👉🏻STAY INFORMED
Seminole County Office of Emergency Management and Florida Department of Health-Seminole personnel are available daily from 8:00a.m.-5:00p.m. by phone to answer non-emergency questions related to COVID-19 at 407-665-0000. Today, this Citizens Information Line reached 1,000 calls.